The International Association for Religious Freedom (IARF) is thrilled to share some crucial updates on our forthcoming 36th World Congress in Cluj, Romania (to be held on 4-6 September 2023 as a hybrid event, also available on Zoom).
We're eager to engage with all participants, both in person and online, in what is set to be a truly inspirational event. Please visit the Congress website and remember to register! 
Detailed Programme Announced
We're excited to reveal our comprehensive programme, an engaging blend of lectures, workshops, devotions, panel discussions, and circle group interactions. Highlights include a tribute to Archbishop Tutu's contributions to faith, justice, and peace by Rev. John Young, a heart-to-heart conversation with Ukrainian refugees, and insightful presentations on interfaith dialogues in the Holy Land and reconciliation between Japan and Korea.
Our timetable offers a minute-by-minute breakdown of the 3-day event, ensuring you won't miss out on any of the enlightening sessions. We will be updating the programme regularly as we continue to refine the event schedule, so keep checking our website or sign up for our newsletter for the latest updates.
Keynote Speaker Confirmed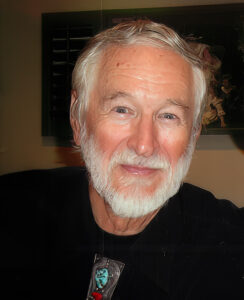 We are honoured to announce that Prof. George M. Williams will be our keynote speaker. Professor Emeritus at the Department of Religious Studies, California State University, Prof. Williams boasts an impressive academic and professional career dedicated to exploring and promoting interfaith understanding and liberal religions.
Prof. Williams was awarded his Ph.D. from the University of Iowa in 1972, specializing in religion in modern India. His research and teaching focus primarily on religions that liberate and liberal religion. This has not only fueled his interest and involvement with IARF but also earned him two honorary doctorates: in May 1994, the Starr King School for the Ministry awarded him the Litterarum Humanarum Doctor, and in October 1996, he received the Doctor Honoris Causa from the United Protestant Theological School of Cluj, Romania (the city where the Congress will be held).
A celebrated specialist on Svâmî Vivekânanda and the Hindu Renaissance, Dr. Williams contributed significantly to the American Academy of Religion, particularly in the development of the section on Hinduism. He's also known for his work on digital archiving, translation, and preparation of databases for sacred texts like the Bhagavad Gita.
Prof. Williams has spent nearly two decades studying liberal Buddhist and Shinto groups in Japan, resulting in numerous publications and multimedia resources. His work on a Shinto digital dictionary was a pioneering educational resource and the first electronic publication of Scholars Press of the American Academy of Religion.
Beyond academia, Prof. Williams has been recognized for his work promoting interfaith cooperation and understanding. The American Chapter of the International Association for Religious Freedom (IARF) presented him with the 1989 Distinguished Service Award. He has given guest lectures at numerous universities and seminaries across the world, sharing insights on liberal religion.
Since retiring in 2003, Dr. Williams has continued his academic endeavors, publishing further works and assisting the Hawaiian faith, Kanenuiakea, to become the second indigenous member of IARF. His latest book, "Cosmic Sage: Imaoka Shin'ichirō, Prophet of Free Religion," released in 2019, tells the story of the influential Japanese religious leader who helped IARF include non-western liberal religions as full members.
We look forward to Dr. Williams' keynote speech, "Remembering History as a Prelude to Reconciliation," and the insights he will share based on his vast experience and knowledge in the field of interfaith and reconciliation. It is an opportunity not to be missed!
Sponsorship Opportunities
We understand that not everyone may be able to afford to travel to Cluj or purchase the online Congress pass. To ensure maximum participation, we're offering partial and full sponsorships for IARF members, particularly young adults, courtesy of a generous grant from our Europe and Middle East region. If you need assistance, please write to us at luke@iarf.net.
To all our members and non-members alike, we invite you to join us at this unique gathering where we will explore our theme, "Faith in Reconciliation," in depth. We can't wait to see you in Romania – or online – for a transformative experience of dialogue, learning, exchange, and collaboration.
If you have any questions or need assistance with registration, visa issues, or travel and accommodation, feel free to reach out to the IARF Administrator, Lukasz Liniewicz, at luke@iarf.net.