The next meeting in the second series of our Motivational Dialogues will be held on Sunday the 28th of November at 5pm CET on Zoom (see below for different time zones). You can watch recordings of previous meetings here.
Morgana Sythove, a leading figure in the International Pagan Federation and the Pagan community in the Netherlands, as well as a member of the Dutch Chapter of the IARF, will speak on "Religious discrimination and the misappropriation of symbols":
At the recent Parliament of the World's Religions / PWR virtual 2021 PF Scotland, in collaboration with PFI and PF, presented a panel about 'Anti-Pagan Discrimination the Untold Story'.

A survey had, and still is being held, to research into 'anti-pagan discrimination'. One of the major problems is that of long history of 'bad publicity' and the use of the word, 'paganism'. In this presentation Morgana will be highlighting the problems 'people of the earth' suffer as having, apparently, 'no faith'.

As well as being ridiculed there is also the misappropriation and abuse of symbols such as the Swastika, 5-pointed star, runes.. and many more. It's time for a closer look at these issues.
The format of the series is simple – a speaker talks for 10 to 20 minutes, and a conversation follows. These are open meetings and everyone is welcome to participate, ask questions and speak their mind.
The time of the meeting for different time zones:
| | | | |
| --- | --- | --- | --- |
| Location | Local Time | Time Zone | UTC Offset |
| USA – California | 08:00:00 | | UTC-8 hours |
| USA – Massachusetts | 11:00:00 | | UTC-5 hours |
| United Kingdom – England | 16:00:00 | | UTC |
| Netherlands | 17:00:00 | | UTC+1 hour |
| Israel | 18:00:00 | | UTC+2 hours |
| India | 21:30:00 | | UTC+5:30 hours |
| Japan | 01:00:00 | | UTC+9 hours |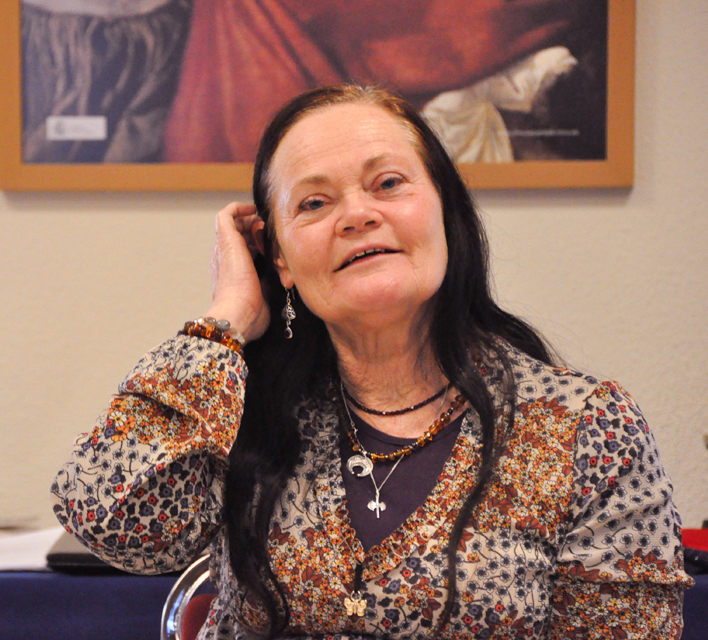 Morgana is Anglo/Dutch and lives in the Netherlands. She is a practising pagan and is a Wiccan Priestess. As International Coordinator for PFI/Pagan Federation International, she travels extensively giving talks and workshops about Wicca and Paganism.
She is also active in Interfaith and is a Global Trustee URI and Gen. Secr. for URI Netherlands. She represented PFI & URI at the Parliament of the World's Religions in 2004/ Barcelona , 2015/ Salt Lake City, 2018/ Toronto and PWR Virtual 2021.