Brief overview of project details (see extensive description below):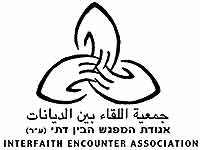 | | |
| --- | --- |
| Name | Religious Leaders' Forum |
| Duration and area | 2011 - present; between Jerusalem and Hebron |
| Organizer | Interfaith Encounter Association, interfaithencounter.wordpress.com |
| Coordinator | Dr. Yehuda Stolov |
| Estimated budget | 15,000$ |
Our Europe & Middle East (EME) region's Israel member group the Interfaith Encounter Association (IEA), whose Executive Director, Dr. Yehuda Stolov, serves on the 2014-18 IARF International Council, has had active programs in place for many years. IARF has funded its Leaders' Forum operating in the Jerusalem & Hebron areas, and encounters between Jewish religious students and Muslim young adults. For historical information see Jerusalem-Hebron Religious Leaders' Forum 2011 report  (PDF illustrated, 7 pages) and  Religious Leaders – 12.12 – 7.13 report (PDF 3 pages).
IEA's Mission statement says:
We are dedicated to promoting real coexistence and human peace in the Holy Land and the Middle East through cross-cultural study and inter-religious dialogue. We believe that … religion can and should be a source of solution for conflicts … in the region and beyond. We do not believe in the blending of all traditions … but in providing a table where all can come and sit in safety and ease, while being fully who they are…
For the last years, since 2011, IARF has supported this cutting edge project. Thanks to IARF funds the Forum was able to develop and even in a time of crisis revitalize itself through the recruitment of additional Sheikhs who replaced the Sheikhs that had to stop their activity as well as hold activities even at times of war and issue joint statements in times of growing tensions. Moreover, the support of IARF allowed for the further development of the beginning of the ripple effect through the formation of the four groups of students and followers of the religious leaders.
Jerusalem-Hebron Religious Leaders' Forum 
The purpose of the Jerusalem-Hebron Religious Leaders Forum is to create a uniquely effective path toward harmonious co-existence. The main Forum continuously recruits leading community religious leaders (Rabbis of synagogues and villages, heads and teachers in Yeshivot (Religious Jewish Academies), Imams in mosques, community Sheikhs etc). Currently, as of 2015, the Forum consists of several Heads and teachers of Yeshivot, Chief Rabbi of the town of Efrat and several Salafi Sheikhs from Hebron. They are consistently exposed to each other's teachings and practices through regular encounters of joint study and open conversation, while emphasizing mutual respect and sincere desire for mutual understanding. The process gradually leads them to get to know each other better, gain more knowledge about their respective religions, and through that become more respectful of the other and develop strong bonds of friendship. Moreover, the process leads them to share their experience with their students, who are the future religious and social leaders of the Holy Land, and encourage them to form their own groups.
Please consider donating to the IEA (link to Global Giving, a crowdfunding resource):
Four groups already formed: students of Siach Yeshiva and Hebron young adults, students of Otniel Yeshiva and young adults from Yata, students of Maaleh Adumim Yeshiva and young adults from Jericho, and young adults from the Nablus area (Jews study in various Yeshivot and Palestinians are from Nablus and Jenin). Three branches of the Forum are now in the process of formation: a group of religious leaders in the Tel Aviv area, a group of Ultra-Orthodox Jews and religious Muslims and a group of religious leaders in the Galilee.
With time, the Forum and students' groups will develop into a regional forum whose voice is heard by the people who live in the region between Jerusalem and Hebron, and hopefully other parts of the Holy Land. In parallel the forum will work to recruit support from top leaders, who will also visit occasionally the encounters, even if their time will not permit regular participation. Due to their position as community religious leaders – the ripple effect will be especially significant. They will convey the message of harmonious coexistence in two ways: 1. by incorporating it into their regular teachings; and 2. in responding publicly and jointly to occurrences of xenophobia or prejudices. IEA will use with this group its regular strategy of studying religious topics and leveraging religious values as a way of overcoming conflict.
Working in a region that is no stranger to conflict, IEA strives to use a grassroots approach to causing lasting social change. The Forum will incorporate the education and experiences of regional leaders who have lived their lives within the conflict. Participation alone is a powerful signal of the willingness of people of the region to move towards peace.
It is also important to note that Jerusalem and Hebron themselves hold deep religious significance for Islam and Judaism. It has been the setting of ancient and recent conflict. It is essential to the future of both communities to work together to create peace since the Israeli-Palestinian conflict not only affects the citizens in the region, but is also used as a rallying point for tensions and even hatred all over the world.
The Jerusalem Hebron Religious Leader's Forum is coordinated by energetic Rabbis and Sheikhs together with the Executive Director. Each of the students groups is coordinated by a Jewish-Muslim team.
The Forum will meet regularely every 5-10 weeks, totaling 5-10 encounters during the year. The encounters will include 10-20 influential religious leaders of both the Jewish and Islamic faith who reside in the region around Jerusalem and Hebron. Leaders will include Rabbis of synagogues, teachers in religious Jewish academies, Imams, and community Sheikhs.
After mutual greetings, each encounter will start with presenting the theme chosen for it from the Jewish and Muslim perspectives.
In the second part, participants will study in depth the theme for about an hour – in light of the presentations and the religious texts of both religions.
The last part, of around 30 minutes (more if needed) will be dedicated to identifying public issues that need to be jointly addressed and working to address them, and planning the next encounter. A few specific examples of possible joint projects to combat xenophobia are: making public statements, writing joint editorials, newspaper columns, etc.
In parallel: the coordinators of the Forum work to invite more community religious leaders to join the Forum and to recruit the support of top religious leaders (such as the Chief Rabbis of Israel, heads of Islamic courts, heads of religious academies, heads of leading families in the region etc.) It should be noted that these are efforts that are extremely time and energy consuming due to the technical issues of the busy schedules of these leaders and the fact that many of them do not use email or mobile phones; and due to the more substantial issues of their lack of acquaintance with interfaith dialogue and the fact that many times they do not yet have openness to encounter with "the other". This aspect of the project will be on-going, with the coordinators dedicating several hours each week for these efforts.
Yeshiva-based student encounters
Some rabbis with whom IEA has been working have introduced the idea of extending the religious leaders project by bringing encounters into Yeshivot (Jewish religious academies), to include those who study in these institutions.
This was a big step forward, as it is often harder to engage students of religious institutions than it is to engage their teachers.
Three yeshiva-based encounter groups have been launched.
In March 2012, a student of two of the Rabbis who teach in Siach Yitzhak Yeshiva had approached them about organizing encounters with Palestinian students. A search through IEA contacts matured in March into an active group with regular encounters.
That resulted, through the support and guidance of IEA staff, in two other active groups of Yeshiva students and Palestinian young adults – the one brings together students from Otniel Yeshiva and young adults from a nearby Palestinian town, and in the other, students from Maaleh Adumim Yeshiva meet young adults from nearby Jericho and other places.
Please see the following reports of events (Hebrew & Arabic follow English in all):
South of Hebron – 31.8.12
South of Hebron YIE – 28.9.12 & 4.1.13
East of Jerusalem – 4.1.13
Hebron-Siach YIE – 21.1.13
East of Jerusalem – 1.2.13
Siach Yeshiva & Hebron YIE – 18.2+3.4.13
East of Jerusalem – 8.3.13
East of Jerusalem – 31.5.13
South of Hebron – 6-7.6.13
All activities were encounters of interfaith exchange, using the methodology as described above.
Most were afternoon/evening encounters of 2-3 hours, except the indicated retreat of two days.