Briefly about IARF Pakistan:
IARF Pakistan strives to promote peace and harmony among Islam and minority religions, including many Christians, Bahai, Sikh and others. Bahai and Sikh have proper relations and coexist well with Muslims, but there are tensions between the Muslim and Christian communities. We organize peace meetings with representatives of all faiths to discuss and promote tolerance and peace.
Please direct your inqueries to Dr. Jefferson Tasleem Ghauri at iarfpakistan[at]yahoo.com.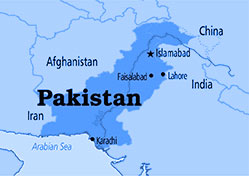 Celebrating the UN-established International Peace Day on 21 September, IARF's Pakistan Chapter held a meeting with several speakers  representing the countries diverse religious and spiritual traditions to share peace-building experiences and reflect together on how religions and denominations can contribute to creating and maintaining peaceful coexistence in a spirit of tolerance and dialogue, so much needed in that part of the world and many others.
The guests included:
Fr. Amir Shehzad Lakshman (Orthodox Church)
Rev. Victor Khayrat  (Roman Catholic Church)
Rana Muhammad Awais (Islam)
Qari Mehtab Alam  (Islam)
Edwin Gul  (Secular)