For Hiroshima Day 2012 (6 August)
Sargodha, Pakistan
As a contribution to awareness-raising on nuclear issues in the 2012 approach to the annual international remembrance day for the atomic holocaust, our Pakistan chapter launched an awareness-raising exhibition in its home city of Sargodha, titled 'Never again Hiroshima, Nagasaki never again'.
Guests at the opening, which took place during Ramadan, included Muslims as well as Christians & Bahais. For brief comments from guests (in Urdu), see these videos (YouTube link).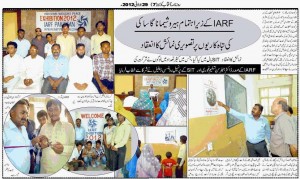 Exhibition opening photos (Facebook)
This event was made possible by support from our member group the Hiyoshi Shrine, Nagoya, Japan.