November 2003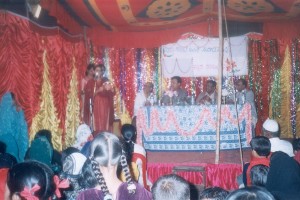 From the report (PDF 2pp):
Kannada Rajyotsava is the festival of Karnataka State. This festival is to commemorate the formation of the new state of Karnataka on the basis of Kannada language. This festival is celebrated on 1st November of every year. All the residents of Karnataka are expected to observe this festival which has nothing to do with religion. It is purely a secular function.

  Muslims generally live in social and also physical isolation. When they live in separate areas, their socialization process becomes retarded. They tend to believe that Kannada Rajyotsava is a Hindu festival. Thus, the concept of Hindu-Muslim divide stems from a gravely mistaken notion. 
  No attempts have been made to have a break-through so that Muslims also feel that Kannada Rajyotsava is also their festival. This would also promote Hindu-Muslim unity and understanding.