"Towards a Culture of Harmony and Peace"
Delhi Peace Summit, in partnership with Council for a Parliament of World's Religions, Chicago, organised an International Summit with the theme "Towards a Culture of Harmony and Peace" from December 7 – 10, 2003 at New Delhi.
The summit was inaugurated by the President of India, H.E. Dr. APJ. Abdul Kalam. Dr. Jagmohan, Union Minister for Tourism and Dr. Karan Singh were also present. It was attended by about 70 international and 300 Indian delegates. IARF was represented by all the members of South Asia Co-ordinating Council (SACC) and its Co-ordinator.
SACC participation: On the first day, Dr. Prof. Mumtaz Ali Khan, SACC Chairman spoke on behalf of IARF on the theme "Building Culture of Peace through Interfaith Co-operation". In a session on sharing stories of interfaith solidarity, Mr. Ranjit Mukherji, Member of IARF SACC spoke on the topic "Service through social work". On the third day Dr. Kazi Nurul Islam, Chairman IARF Bangladesh Chapter acted as Moderator for a group discussion on the topic "Interfaith Education". Mr. Mukherji, Mr. Thomas Mathew, SACC Member and Mr. Zulfikhar Akram, SACC Co-ordinator did facilitation for discussions on inter-religious and intra-religious solidarity in the circle groups.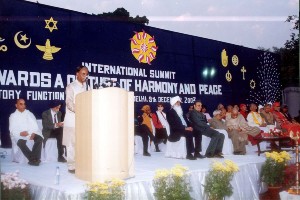 His Holiness The Dalai Lama presided over the valedictory Function. It was organised at Gandhi Smriti. Dr. Mohinder Singh, the Organising Secretary of the Summit requested Dr. Khan to extend greetings to H.H. The Dalai Lama on behalf of IARF. After paying his respects to The Dalai Lama, Dr. Khan in his address said
"Your Holiness Dalai Lamaji, it is my pleasure and privilege to convey greetings to you on behalf of International Association for Religious Freedom. We seek your blessings to promote and sustain peace and harmony around the world".
Ms. Ela Gandhi, the grand daughter of Mahatma Gandhi and one of the prominent participants, also spoke on the occasion.
During the Summit the SACC members met some of their old friends and also made new friends and had useful discussions with them. On the last day, an interfaith pilgrimage within Delhi was organised. The Co-ordinator took part in it.
Zulfikhar Akram
Co-ordinator, IARF SACC