Chennai inter-collegiate competition "Communal Harmony", 2011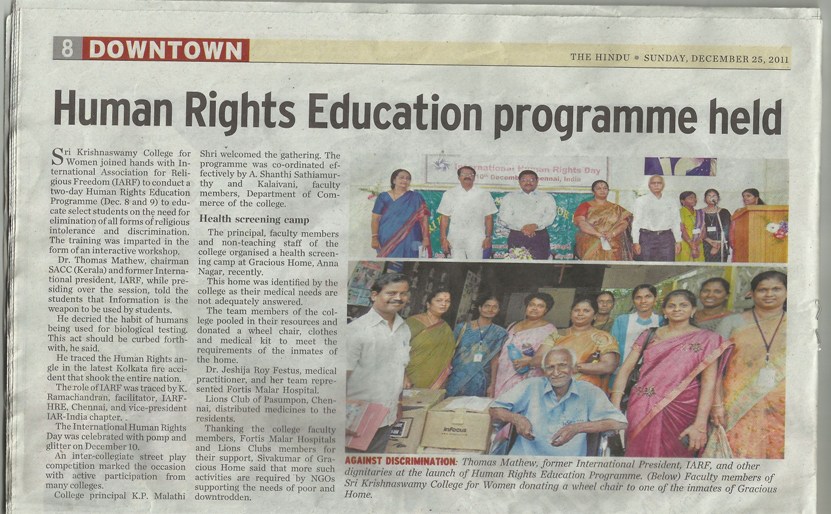 "We have celebrated International Human Rights Day on 10th December, 2011 at Shri Krishnaswamy College for women, Anna Nagar, Chennai by conducting Inter Collegiate competition under the Topic " Communal Harmony".
Different colleges were participated. As a coordinator, I requested & invited Director P.V. Prasath, Cine Director (Best Film Kadalil Vizhunthen) (Song Nakka mukka) & Mr. Kalaivanan Director, Kalai Trust for Judges Panel for neutral judgment. They have attended in time and program started after presidential Address of Dr. Thomas Mathew, Chairman, South Asia Coordinating Council, Kerala & Former International President, IARF.
The entire college was enjoyed the competition with other College students. Judges declared that the Ethiraj College for women (autonomous) Chennai got the First Place under the leader ship of Ms.Hemalatha, PG Student of Human Rights & duties Department of Ethiraj College & young adult of IARF, Chennai, Shri Krishnaswamy college for women got the II place and Bhakthavatchalam College for women, chennai got the III place. The out standing award given to Ms. Dhivya Bharathi, BCA II year, Krishnaswamy College for women. The celebration was started at 10.00am and ended at 05.00pm (IST)…"
– Krishnan Ramchandran, IARF-SACC Human Rights Education facilitator
Filed under: Activities, South Asia