Dhaka, Bangladesh
7 December 2012
The Gurudwara of Dhaka celebrated the 500th year of Guru Nanak's visit to Dhaka and his stay on the present Gurudwara campus, then known as Nanak's Chapra.
About 300 Sikhs from India attended the program.
President of IARF's Bangladesh Chapter, Prof. Kazi Nurul Islam, received special recognition at a reception, in the form of a Crest brought from Punjab, in recognition of h is contribution to the promotion of Sikh Studies, at home and abroad.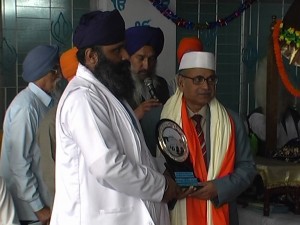 "Dhaka Gurdwara gets Sikh History Research Centre: There is virtually no Sikh population in Dhaka, Bangladesh, yet a Sikh History Research Centre has been established in the complex of Gurdwara Nanak Shahi by Sampradaya Karsewa, Sarhali (Punjab) for the research and propagation of Sikhism. Kazi Nurul Islam, Founder Chairman of the Department of World Religions, has been appointed as its honorary director". ( Source )
In addition, on 26th December the University of Dhaka formally awarded him a Gold Medal, certificate and Crest for his lifelong contribution in promoting inter-religious harmony both in Bangladesh and abroad.