On Saturday 8th August 2015, Sheikh Maytham Al Salman, chairman of
the Bahrain Interfaith Centre, an Associate member group of the IARF, and Head of the Religious Freedom Unit in the Bahrain Human Rights Observatory (BHRO), was detained at Manama international airport, charged with "inciting hatred against the regime". The Sheikh has been detained before. We wrote about this here.
Here you can read our introduction of the Bahrain Interfaith Centre.
Excerpts from article by Global Freedom of Expression, Columbia University (you can read the article here):
An internationally respected inter-faith leader, Sheikh Maytham Al Salman …
is well recognized for his work on building tolerant societies, and on countering incitement to violence and discrimination in accordance with international human rights standards…
Once detained, he was permitted to inform his family, by telephone, that he was being held at the Criminal Investigation Division, Economic Crimes Unit. However, in contravention of his human rights, he was denied access to a lawyer. Pending further legal procedures, Sheikh Maytham was released some 12 hours later.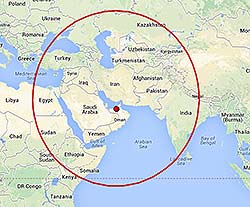 Article 165 of the Bahrain prohibits "inciting others to develop hatred or hostility towards the system of government." It is an offence punishable by imprisonment of up to three years. Such charges are most widely used against human rights activists and media workers involved in promoting human rights in Bahrain or in documenting cases of human rights abuse. …