Budapest, Hungary, March-April 2004
The design for this RFYN project for Budapest – a young adult interfaith project combined with a religio-drama programme – was begun in 2003 by Rev. Ilona Svent-Ivanyi, with the assistance of two young Lutherans, Nóra & Victor, and supervision by Ramola Sundram in Oxford.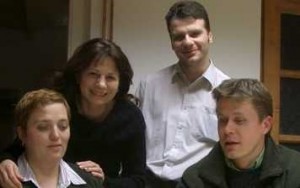 The project was launched in March 2004. The participants were young people representing different world religions, as well as our member groups Religious Information & Educational Center foundation (RIEC) in Budapest and the Unitarian Church in Hungary.
Talks given by experienced leaders within each faith community lead to animated discussions, with drama then used as one method of exploring religious themes using scriptures & other texts.
The project was meant to be a model young adult interfaith programme. It is a new way of teaching tolerance & knowing the Other better. The programme leaders had also thought it a good idea to implement a new initiative. So far participants have welcomed this new interactive project, and they enjoy being together with other world faiths.
 Account & analysis of the Religiodrama project by one of its initiators (PDF).