Building Bridges of Faith: JAPAN
The pilgrimage started in Hiroshima, on Hiroshima Day (6th August), to reflect on the spiritual lessons from one of the most terrible moments in human history & Japan-USA relations. Rissho Kosei-kai Hiroshima branch hosted us. There was the major Peace ceremony, a visit to the Peace Museum and a Prayer for peace, placing flowers & paper cranes at a special shrine (see The Sadako Story for the significance of the cranes).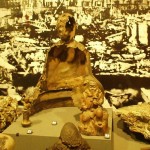 From Hiroshima Day: [nggallery id=6]
In Osaka, the sunrise worship at the Konko Church of Izuo was led by members of its founders the Miyake family, who gave a special welcome & explained the significance of their Church's beliefs.
[nggallery id=7]
The beauty, calm and dedication to service of the Ittoen spiritual community in Kyoto made a deep impression on the group.
Rev. Takeshi Nishida, grandson of the Ittoen founder Tenko-san, & Rev. Daijiro Ai spent time explaining the spiritual traditions of the community & showing them the grounds.
[nggallery id=8]
Ittoen's young people prepared a feast for their visitors, who were also able to visit sites of special interest in Kyoto.
The Ittoen prayer hall incorporates the symbols of several spiritual traditions. An aspect that the young adults appreciated was the circular window at the back of the shrine that looks onto the garden outside, to emphasise humanity's closeness to nature.
At 2,000-year old Tsubaki Grand Shrine, near Nagoya, the 97th Chief Priest, Guji Yukiyasu Yamamoto, introduced the pilgrims to a completely new spiritual experience – that of Misogi, or purification by entering a natural waterfall. The Shinto kami, spirits of all natural things, are requested to assist with a profound cleansing of each participant.
 [nggallery id=9]
The headquarters of Rissho Kosei-kai (RKK) in Tokyo was the final stage in Japan. RKK is a lay order of modern Japanese Buddhism, founded by Rev. Nikkyo Niwano & based on the teachings of the Lotus Sutra. Here they said prayers in the Great Hall, and heard & discussed the teachings of the Lord Buddha. The RKK external affairs department's staff answered questions in depth, and introduced the special RKK Hosa Group as a means of both spiritual discernment & support.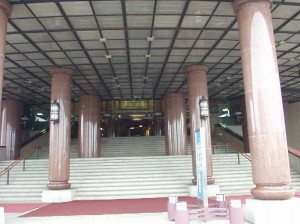 Contrasting the splendour of the RKK Great Hall in Tokyo was the relative simplicity of the RKK branch at Hiroshima, where Rev.Yoshinaga explained Buddhist teachings (on back walls, portraits of RKK founders – at left, Rev. Nikkyo Niwano, at right Rev. Myoko Naganuma).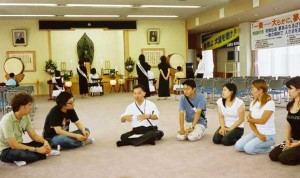 This completed the programme devised & part-funded by some of the members of IARF's Japan Liaison Committee (JLC) consisting of all the above spiritual groups and others, including the IARF Japan Chapter, the Hyoshi Shinto Shrine, and the International Association for Liberal Religious Women.
The young pilgrims then left for the United States of America.
US leg>>