"Towards an Affirmation of Religious Freedom and Responsibility"
This project, which began in 2002, received a generous grant from The Rockefeller Foundation, who accepted the final report in mid-2006.
Rockefeller Final Narrative Report AoRFR project (PDF 4 pages)
From the report:
The project's objective was to "enhance the standards of practice of religious communities with a view to safeguarding their own members, the followers of other religions, and society as a whole". 

The project has succeeded in providing a baseline discussion document for the current international debate on religion's role in globalization, and the applicability of western-originated human rights culture to all authority structures. As such it can be placed alongside such initiatives as the scholar Arvind Sharma's project A Universal Declaration of Human Rights by the World's Religions.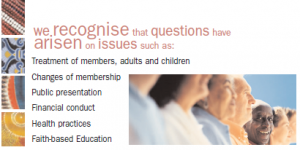 Please enquire through our contact form if you would like more information about this project.