The quadrennial conference of the EME, IARF's Europe and Middle East region, will be held on 22-25 August 2016 in Tetovo, FYR Macedonia. It will be hosted by the Bektashi Community and the Evropa Centre for Human Rights.
The theme will be Religion and Conflict Prevention.
You will find the programme and other details below. Here you may also download a brochure in PDF. You can register online here or fill in this form and submit it to our Administrator at luke@iarf.net.
Speakers (to be confirmed and completed)
HH Hajji Dedebaba E. Brahimaj
Head of the Bektashi World Center and world leader of the Bektashi Order, a mystical Islamic Sufi order identifying with the Shia tradition and IARF member group based in Albania and the Balkans. The Baba is very devoted to peace efforts and interfaith dialogue, presenting an open, inclusive face of Islam.
Br. Ivo Markovic OFM
A Catholic Franciscan Bosnian Croat, Friar Ivo Markovic emerged as a force for reconciliation in the midst of the violent, sectarian conflict that followed the break-up of Yugoslavia in 1992. Fearless, Friar Ivo worked without concern for his own life, always ready to confront the hypocrisy within his own community. Indeed, Friar Ivo's story demonstrates the power of a single person in countering the messages of hatred.
Rev. Dr. Ilona Szent-Ivanyi
Currently a minister in the Unitarian Church in Budapest, Hungary, Dr. Szent-Ivanyi conducted research on interfaith relations and especially Muslim-Christian dialogue at the Faculty of Religious Studies of the Lutheran University in Budapest and the Goldziher Institute. She is also an experienced activist and practitioner. In the years 2001-2006 she worked as European coordinator of the International Association for Religious Freedom.

Prof. Arben SulejmaniA historian working at the Department of Philosophy of the State University of Tetova and Head of Foreign Affairs of the Bektashi Community of Macedonia, Prof. Sulejmani is an expert in the Bektashi tradition and an ardent supporter and facilitator of interfaith dialogue as well as a human rights activists primarily concerned with the position of ethnic and religious minorities. He is author of The Bektashi Community in the Balkans and Around the World as well as diverse articles about Bektashism and the situation of the Albanian minority in Macedonia in English.

Prof. Etem AziriDean of the Faculty of Public Administration and Political Science at the South East European University in Macedonia, Prof. Aziri is a sociologist of religion and sociologist specializing in Albanian studies and the challenges facing a multi-ethnic society.

Ahuvia GorenAhuvia Goren is a Rabinical student and teaches Judaism and philosophy in 'Machanim' Rabbinical seminary  ,Migdal Oz. He is a graduate student from Herzog College and a member of the Interfaith Encounter Israel Council. Additionally he researches medical ethics and Christian Jewish relationships in Tel Aviv university History department
Programme
Pre-Conference Tour
Those who wish may take part in the pre-conference tour to Albania organized by the Bektashi Community. Please indicate that on the registration form. The cost is 285 EUR.
Here
you can download the tour brochure (.pdf).
Departure: Skopje airport, Friday 19 August at 12:00
Return: Hotel Emka, Tetovo br>
Day 1 Friday: Ohrid, Day 2, Saturday: Tirana, Durrës, Berat, Day 3, Sunday: Tomorri, Day 4, Monday: Tetovo (beginning of Conference)
Monday (22 August)
Arrival and registration. Participants will be welcomed at Skopje airport. A bus will be made available for transfer to the hotel in Tetovo. Participants arriving early will receive a lunch package at the hotel.
19:00 Dinner, cultural event (performance of music from various Macedonian traditions by the band "Këpurdhat") and socialising
Tuesday (23 August)
8:00-9:00
Breakfast
9:30-10:00
Morning devotion
10:30-11:30
Opening Ceremony
11:30-12:30
Keynote speech: Br. Ivo Markovic OFM
12:30-13:30
Lunch
13:30-14:15
Address: HH Dedebaba Edmond Brahimaj
14:15-16:30
Visit to local places of worship: a Bektashi tekke, a Muslim mosque,and an Orthodox Chris tian church. Short prayer and presentation will be held at each site.
16:30-17:00
Coffee
17:00-18:00
Lecture: Prof. Etem Aziri
18:30-20:00
Dinner (University)
20:30
Social time (Hotel)
Wednesday (24 August)
8:00-9:00
Breakfast
9:30-10:30
EME meeting (open)
10:30-11:00
Morning devotion
11:00-12:00
Lecture: Dr. Ilona Szent-Ivanyi
12:00-12:30
Break
12:30-13:30
Lunch
13:30-14:30
Workshop: Ahuvia Goren
14:30-15:30
Workshop: Prof. Gentiana Skura
15:30-16:00
Brek
16:00-17:00
Lecture: Prof. Arben Sulejmani
17:15-18:15
Conference closing
18:30-20:00
Dinner (University)
20:30
Social time (hotel)
Thursday (25 August, optional)
Some participants will depart. Those who choose to stay for another day will be able to choose between one of two excursions and participation in the meeting of the European Liberal Protestant Network (to be confirmed). Members of the IARF Peace Commission will meet as well.
Excursion 1: Tetovo and Skopje, guided by volunteers from the Bektashi Community (app. 3 hours, 15 EUR)
Excursion 2: Ohrid, guided by volunteers from the Bektashi Community (app. 6 hours, 25 EUR)
8:30 Breakfast
8:00-9:00 Breakfast
10:00-13:00 ELPN Meeting
10:00-18:00 Full-day excursion to Ohrid
13:00-17:00 Half-day excursion to Skopje/Tetovo
19:00 Dinner (Hotel)
Practical information
Cost
200 EUR: accommodation (3 nights), breakfast, lunch and dinner each day,
+45 EUR for 4 nights,
+30 EUR for airport transfer (on arrival and departure). For those wishing to attend part of the programme or staying elsewhere day prices apply.
Contact Persons
Lukasz Liniewicz
IARF Administrator
luke@iarf.net
+31 641-744-951
Skype: iarf_skype
Lucie Meijer
IARF EME Treasurer
+31 20-66-93-912
luciemeijer@xs4all.nl
Prof. Arben Sulejmani
Local Coordinator,
Chairman of the Bektashi
Community in Macedonia
benny.art@hotmail.com
Accommodation
Hotel Emka
www.hotelemka.mk
Street Ilindenska no.n
Tetovo, 1200, Macedonia
Tel: +389 44 331 145 (Reception)
Email: info@hotelemka.mk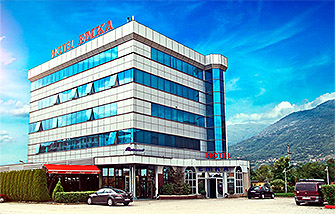 Venue
South East European University
Ilindenska n.335
1200 Tetovo
Tel: +389 44 356 188
www.seeu.edu.mk/en/
web@seeu.edu.mk