IARF British Chapter
Here you can read the IARF British Chapter constitution. If you wish to contact the Chapter, please write to the Secretary, Mr. Pejman Khojasteh, at pejman_khojasteh at btinternet.com.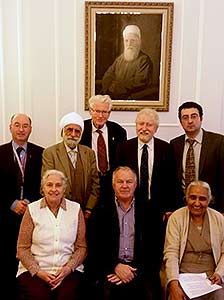 The Chapter Committee:
Chairman: Derek McAuley
Vice-chairman: Rev Chris Hudson
MBE Secretary: Pejman Khojasteh
Treasurer: Jeffrey Teagle
Recent news of note
Formation of the All-Party Parliamentary Group on International Religious Freedom or Belief – a new initiative from the Upper House that, though not directly linked to IARF UK, has the Chapter's support and may be interesting to all concerned with issues related to religious freedom.
Newsletter March 2014  (PDF 14 pages)
Newsletter June 2013 (PDF 10 pages)