After Belfast (2008) and Elspeet (2012), IARF EME this time decided to take the regional conference for Europe and the Middle East to eastern Europe, the city of Tetovo in FYR Macedonia.
Watch the "Conference at a glance" video
For theme we chose Religion and Conflict Prevention. This proved a worthwhile venture throughout. The conference was hosted jointly by the Bektashi Community (you can read more about it here) and the Evropa Centre for Human Rights.
The Conference was made possible by generous contributions of several parties, particularly the Hibbert Trust, which covered speakers' expenses, IARF Dutch Chapter, IARF German Chapter, Rev. Gehrmann Foundation and several individuals who sponsored individual participants.
Having the full advantage of a central position within the IARF region, the number of participants' countries of origin came to a record 14, outdoing the Elspeet conference in this respect. About half of the participants had not participated in an IARF international event before. The presence of several former IARF council members, Rev. Takahiro Miwa from Japan among them, proved extremely valuable.


Fragment of the morning devotion by Ali Gronner
Spirit of Life, known by many names yet by no name fully known –
we gather today with hopes and dreams and also with fears and wounds. May we be reminded that all things come and go; that today´s joys and today´s sorrows will in time give way to those of tomorrow and that those of us who have strength to share today ought do so while we can, and those who are in need ought allow ourselves to receive for tomorrow those roles might well be reversed. Spirit of Life, mother and father of us all, help us to remember those who are not here with us today, those who need what we have found here and those who have what we here need, May we always be open to growth and change, to movement, to grace. In the name of all that is holy, and in all the holy names that have ever be uttered (and those that have not even yet been imagined), let us say Blessed be, Shalom, and Amen.
The conference started with a dinner at the South East European University, during which the participants of the pre-conference tour were welcomed. The band "Këpurdhat" provided musical accompaniment.
The opening ceremony was attended by several local dignitaries, notably the religious leader of the Bektashi Order, HH Edmond Brahimaj and representatives of two embassies (United States of America, United Kingdom).
As a result of the successful introduction of morning and evening devotions at the previous conference in the Netherlands, two morning devotions were held, featuring several newcomers.
Lectures
Br. Ivo Markoviç OFM gave the keynote with an account of his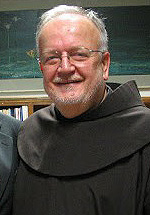 findings during his life-long work for reconciliation in Bosnia. He pinpointed several problems in the current theories about religion, among them its absence in the public sphere, and the fact that it is frequently turned into an instrument of politics. Nationality defining religion, in his view, is unacceptable. He was particularly critical of the failure of our religions to accept the principle of freedom. Nevertheless, obedience would be at the core of his concept of true faith; an obedience, which would be the result of a close relationship with God. Now is the time to return to the essence of religion, which is defined by that relationship. How can that newly reformed religion contribute to peace? By stimulating personal growth in morality, responsibility, and self awareness. By inserting core values in society and stabilizing it. By inspiring individuals to maintain peace and groups to joint the peace movement. His own very practical way of doing this is to use art as a vehicle to bring people closer together. His choir Pontanima consists of people from various backgrounds who have lived through the Bosnian conflict.
Prof. Brikend Aziri presented a co-project of himself, Etem Aziri,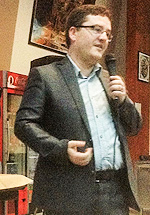 and Arben Sulejmani, at the core of which was an exposé of the difficulties of assessing the number of faith communities, notably the Bektashi, in post-communist Macedonia. Like Markoviç, but speaking specifically about present day Macedonia, he stated that religion is being used as a tool to increase existing tensions. Even if FYR Macedonia had excaped massive bloodshed and ethnic cleansing, for the first ten years of its existence it had been a sleeping volcano, until the Ohrid agreement was signed in 2001. This agreement, effectively a peace treaty, came about pressure from western countries. It affirms the separation of church and state. Relevant to the issue of religious freedom in FYR Macedonia are also the 1997 law to prohibit violation of law on religious grounds, and the 2007 law to prohibit intolerance and harassment of religious groups. Present day problems result from a tendency by major political parties to favour a specific Christian church and to identify the national identity with it. In this process, originally Ottoman historic building have been given a cross on top. Priority is being given to the rebuilding and restoration of Christian religious sites and places of worship over others  that similarly have suffered destruction and neglect during communist times. This favouritism is being facilitated by corruption.
Rev. Dr. Ilona Szent-Ivanyi talked about latest developments in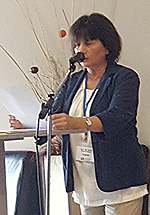 Muslim-Christian dialogue. You can read a transcript of her lecture here. From the conclusion:
"The interfaith dialogue is an ongoing process, and not an isolated act which can be separated. The dialogue does not bring a solution merely. But the initiation of the dialogue means opening towards other religions, which is the essential condition of the solution.
Many people are afraid that Islam transforms Europe sooner or later; indeed some people speak about the "islamization" of Europe. The strong European presence of Islam means a challenge for the society, for the Christians and for other religions equally.
There is no model which can be applied really well onto the pluralistic society's living together. The necessary model has to be created together after a long and sometimes hard process. My opinion based on the scientific research and the examined documents is that the interfaith dialogue plays a significant role unambiguously and it will be even more considerable in the solution of the problems occurring in connection with the living together of the two world religions and in the creation of the conditions of a peaceful cooperation being based on working on the common good."
Prof. Arben Sulejmani gave an introduction to the history and present state of the Bektashi, describing their position within Islam and their inclusion of non-Islamic believers, their institution the Betashi Dervish Order with its worldwide headquarters in Tirana, and their actual situation in Macedonia.
Workshops
Han Steijnebrugh and Anita Euschen presented the work of the European Network for Religion and Belief, an interfaith lobby group at the European Parliament. Its chief project currently focuses on LGBT (Lesbian, Gay, Bisexual & Transgender) rights. An animated discussion about minorities, their rights and empowerment, and the necessity to facilitate their integration, took place.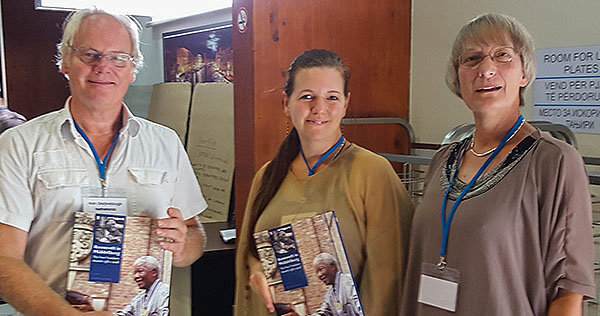 Peter le Poole and Arben Sulejmani presented an action plan to promote Bektashi interests and to make this peaceful and profound path better known in the western world.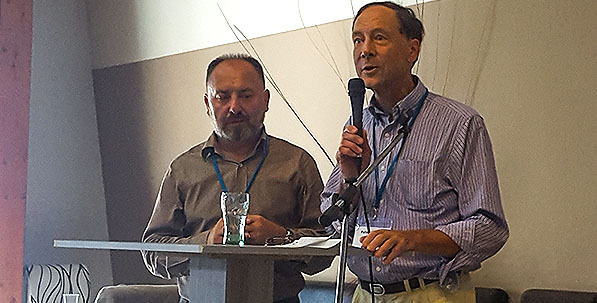 An easily accessible approach to interfaith dialogue was demonstrated by playing the interfaith board game Diversity Game. It can be purchased online; a German translation may be obtained through IARF.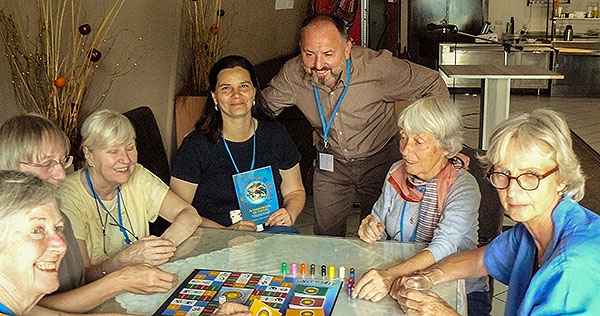 Business meetings
After an intense brainstorm session we adopted a support action plan of the Bektashi. It met with the approval of all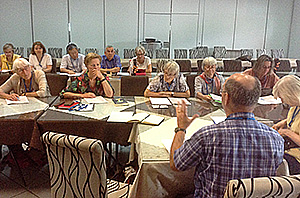 participants and will be implemented immediately, without too much preparation. Follow us on Facebook to learn more!
The World Congress 2018 and the IARF EME regional conference were discussed. The location of the first is still uncertain. An offer was made to have the latter in Budapest, Hungary, which was welcomed by all present, representing (though informally) six (EME) countries, that is Germany, Hungary, the Netherlands, Poland, Romania, and Switzerland. Constructive action plans were presented, a.o. to turn the UN lobbying into a proper IARF project. A suggestion was made to form a YA group using existing contacts in France.
Additional spin off
The pre-conference tour to Albania was greatly valued. It included a visit to the Bektashi who were gathered on top of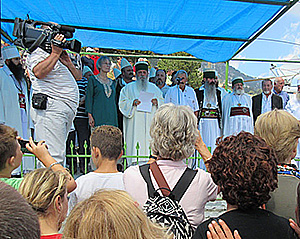 Mount Tomorri for their annual pilgrimage, and a Q &A session with Faik Selman, Baba at the Elbasan tekke; during the evaluation a recommendation was made to keep pre and post conference tours on the programme.
Several Albanian language TV stations showed an interest in our IARF conference and its hosts: National TV stations of Macedonia: TV Macedonia, TV Alsat M, TV 21 Macedonia, TV Kiss, TV koha, TV ART ,TV telma. The footage was distributed also on local TV stations of Skopje, Kumanovo, Tetovo Gostivar, Kicevo, Ohrid, and Struga.
IARF president Wytske Dijkstra was invited to speak at the celebratory event on Mount Tomorri, Albania, on the occasion of the yearly pilgrimage, and to participate in a wreath-laying ceremony to celebrate the birthday of Mother Teresa and related events (post-conference). Both events were broadcast as well.
Photos