31st World Congress
Budapest, July / August 2002
From 28 July to 2 August 2002, our 31st World Congress was held in Budapest, Hungary.  Attended by nearly 500 participants from around the world, the Congress was themed "Religious Freedom: Europe's Story for Today's World".
In addition to presentations on the European experience, there was a daily sharing of different beliefs and practices, keynote lectures, daily 'Circle Group' gatherings, an international panel, regional meetings, and several workshops designed to encourage practical programmes in local communities.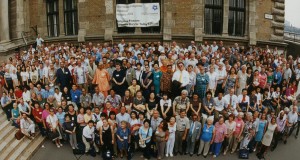 President's statement (2 pages)
General Secretary's report (4 pages)

Keynote Presentations

The 31st World Congress was privileged to have Professor Abdelfattah Amor as a keynote speaker.

Prof. Amor was Special Rapporteur on freedom of religion or belief of the United Nations Commission on Human Rights. His remarks offered an assessment of the U.N.'s mandate on freedom of religion or belief. He also addressed both a growing extremism affecting all religions and preventive measures that the international community is taking against intolerance and discrimination.
AbdelFattah Amor keynote (12 pages)

Dr. Karel Blei gave the keynote lecture on "Religious Freedom: Europe's Story for Today's World".
A book on this theme was presented to all Congress participants, which chronicled the evolution of religious freedom in Europe from the dawn of civilization to the modern era.
Karel Blei keynote (12 pages)

Selected Lectures
There were 6 different lecture topics offered during the Congress. Participants were encouraged to attend a series of workshops on a chosen topic and to consider practical programmes that could be implemented in local communities.
The following options were offered as both main lectures and workshops:
Encountering Interfaith
This lecture focused on the practical aspects and challenges of setting up interfaith encounter and reviewed a variety of models at the local, national, regional and international levels. Experts in interfaith work were available to help participants to develop or improve their own interfaith initiatives locally and to connect them with existing groups. Dr. Harriet Crabtree, Deputy Director of the InterFaith Network for the U.K., led this session.
Designing Programmes That Work
This lecture examined the principles of how programmes can be designed. It looked at the elements and reasoning which are necessary before committing resources to action. Potential projects for a broad range of religious freedom programmes were discussed. Mark Bitel from Partners in Evaluation in London led participants through the process of designing effective programmes
Building Strategic Plans
Principles of Strategic Planning were covered in this lecture and drew on illustrations from the IARF's newly-adopted Strategic Plan for 2001-2007. This session helped participants to develop goals for their own work and taught them how to think in more strategic ways! Remarks were given by Rabbi Mordechai Liebling from the association's International Council.
Using Information Technology for Religious Freedom
Using non-technical language, this lecture reviewed how information technology can be used to promote the cause of religious freedom and how to take advantage of modern methods of communication. Rev Yoshinobu Miyake, the Executive Director of the Konko Church of Izuo, gave the main session
Teaching Tolerance
Religious education varies widely throughout the world from the promotion of a single predominant faith to a secular avoidance of all religious instruction. These issues will be covered along with a discussion of ways in which values and beliefs are passed down and how children can learn about tolerance and other virtues. Dr. Dan Popov and Linda Kavelin-Popov addressed the work they do globally on teaching virtues. Professor Ai spoke about his work on pupils' spiritual development at Ittoen School in Japan.
Promoting Voluntary Codes
Governments throughout the world have been increasingly concerned about the practices of religious groups. The potential parts of a Voluntary Code of Conduct for Religious and Belief communities, which is being pioneered by IARF, were covered in a lecture given by Dr. Eileen Barker from the London School of Economics. While this lecture is not available, an article in the March 2002 edition of IARF World provides more background on this initiative. Small groups debated the pros and cons of such a code while at the Congress. Based on this feedback, the process for the Code's futher development is under review.
Religions: Beliefs & Practices
Time was scheduled every morning for the teaching of beliefs as well as a demonstration, or explanation of religious practices. Two different faith traditions were featured on each morning of the Congress. The links below go to handouts distributed at these sessions: